Earlier last month, some of our team decided to rack our brain juices and did up a few Cinemagraphs.
---
This is a Cinemagraph of our writer Jennifer, attempting to craft a visual storyboard. This is part of the creative process in every project we've worked on.
---
This Cinemagraph shows how we usually do our Voice-overs in one of our studios.
---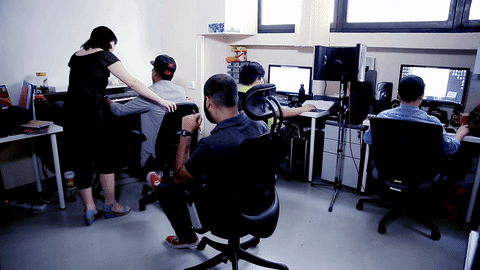 Yasin our producer spinning his chair, thinking of ideas for his next project.
---
Cinemagraphs are basically – Photos coming 'alive' and this is achieved simply by capturing a static footage of an element that can be repeated or looped. The magic comes only in post-production phase, where it is most commonly edited in Adobe Photoshop or Adobe After Effects or any other photo editing platforms that supports importing of video frames. By intentionally masking out the segment(s) to be moving, the outcome would be a seamless Cinemagraph that is intriguing. Also, it is usually exported as an animated GIF or in other video formats and it will give the illusion that the viewer is watching an animation.
---
Some behind-the-scenes of the mini-production as shown below: